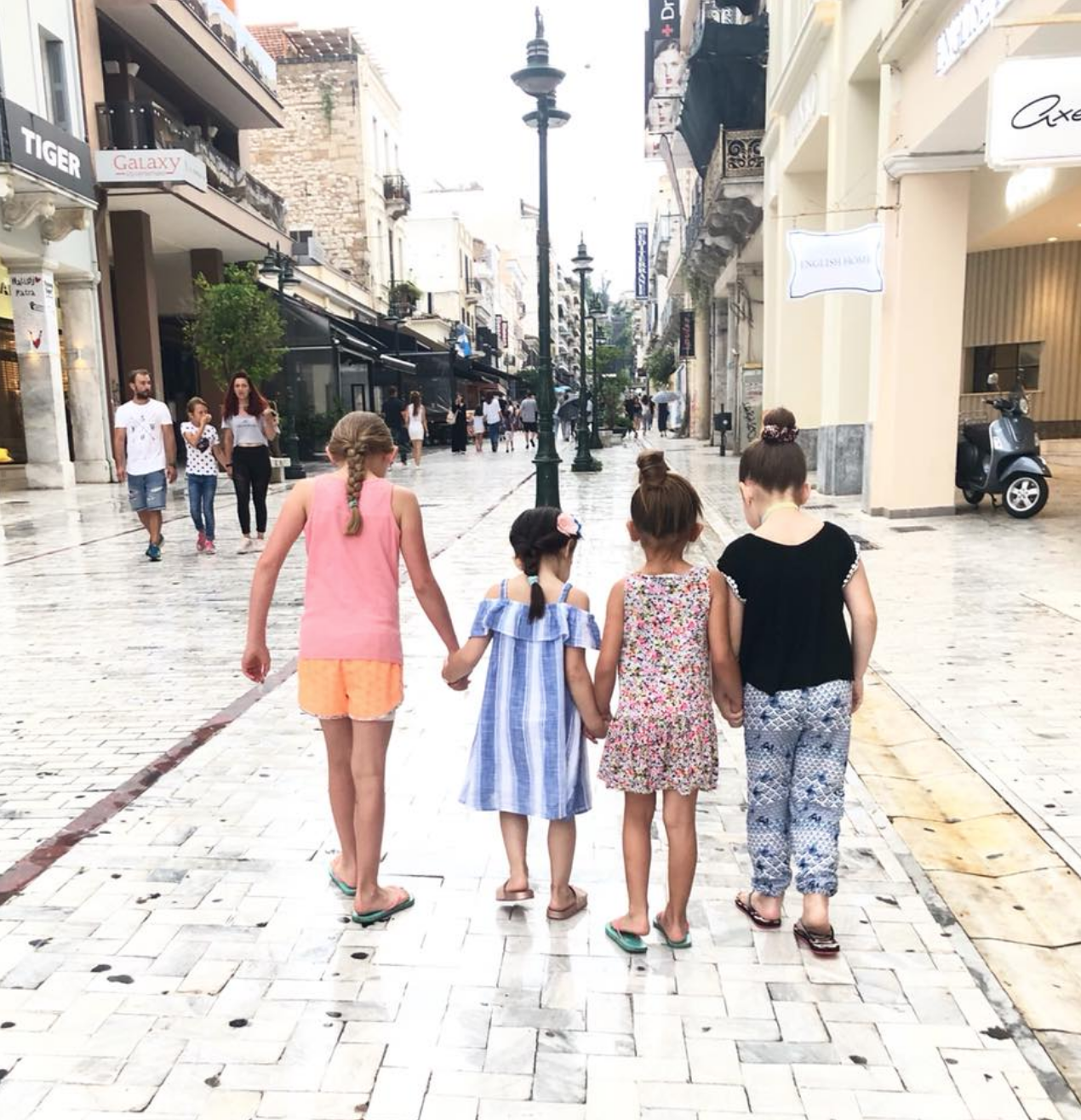 Have you always wanted to travel to Greece?
Greece has always been on my list of places to visit! I've wanted to experience the turquoise waters, beautiful beaches, ancient architecture, rich history, stunning scenery and culinary delights. I have yet to find a person who has gone to Greece who doesn't marvel about their trip! So, after months of planning, my husband, kids and I, along with our closest friends and their kids, set off on a trip of a lifetime. The majority of our time was spent on the Greek islands of Cephalonia and Lefkada and, yes, these places definitely checked all the boxes! I could sit for hours and tell you about the fun and amazing things we did while on our vacation.
Do you find that people always talk about the best things about their vacation?
I guess it's human nature when sharing about a trip to talk about the best things so everyone is impressed, right? I'm guilty for that too! My favourite questions to ask travellers when they return from any new adventure is 'what did you not like?' or 'what were the less than stellar parts about your trip?' These types of questions draw out the 'scenes' that are usually cropped out when people are sharing the details of their adventures.
So, fun and amazing aside, today I want to tell you some of the things I would 'crop out' of my Greece vacation if I could. There are a few things that surprised me that weren't the picture-perfect ideals that every traveller shares or that you read in the guidebooks about Greece.
Here are 5 things that people don't tell you about Greece.
1.     The roads on the islands are windy and narrow.
Twists and turns, ups and downs, narrow roads with no shoulder. If you get remotely carsick, and even if you've never been carsick before in your life, you will need to pack some Gravol or some sort of motion sickness prevention. I have never had motion sickness in my life, but being a passenger in the car made me feel queasy. My daughter was also sick most of the time from all of the driving, so if you are bringing your kids to Greece keep this in mind! Thankfully, I packed a lot of Gravol and we found ourselves having to use it almost daily.
2.     Ibuprofen (Advil) is hard to find.
If you are from North America and use Advil for pain medication, be aware that it is not a common over the counter medication in Greece. We visited many pharmacies looking for children's Advil when my daughter got sick, only to find out that it is not used in Greece. So if this is your preferred medication, be sure to pack it!
3.     Be prepared for antiquated hospital conditions.
Speaking of my daughter getting sick, unfortunately we had to take her to the hospital when on the islands. She had a high fever and leg pain, and we did not want to take any risks, so we took her to emergency. Well, something that people don't tell you is the hospitals are nothing like the modern hospitals we are used to in North America. The building itself was in poor condition and when my daughter was asked for a urine test – I took her to the bathroom to find there was no lock on the door, no soap, no toilet seat, paper towels or toilet paper. The conditions were eye-opening! As a traveler, you get away to escape reality, but when someone in your group gets sick it brings you quickly back to reality. In this case, the reality of Greece is they are still recovering from their economic crisis, and you can witness it first-hand if you have to use their healthcare system. Now, I'm not sure what the hospitals look like in the more urban, populated centres such as Athens, but I urge you to be aware that the health care is not the same standards as first-world countries. On a positive note, the doctors were very attentive to my daughter and she did recover from having some sort of virus, but seeing the conditions of the hospital was something I will never forget.
4.     People smoke everywhere.
If you are from North America where smoking has been banned from most public places, you are in for a surprise in Greece. People smoke in restaurants, shops and even hospitals!
5.     Food is delicious, but there is not a lot of variety.
Greek cooking uses simple ingredients – and I do not mean this in a negative way. If you love this style of cooking, you're in for a treat! But if you are in Greece for any length of time and looking for a break from traditional Greek cuisine, you may have a hard time finding variety, especially if you are not in an urban centre such as Athens.
Have you travelled to Greece?
Do you agree with this list or do you have anything to add? I'd love to hear your thoughts, please comment below!