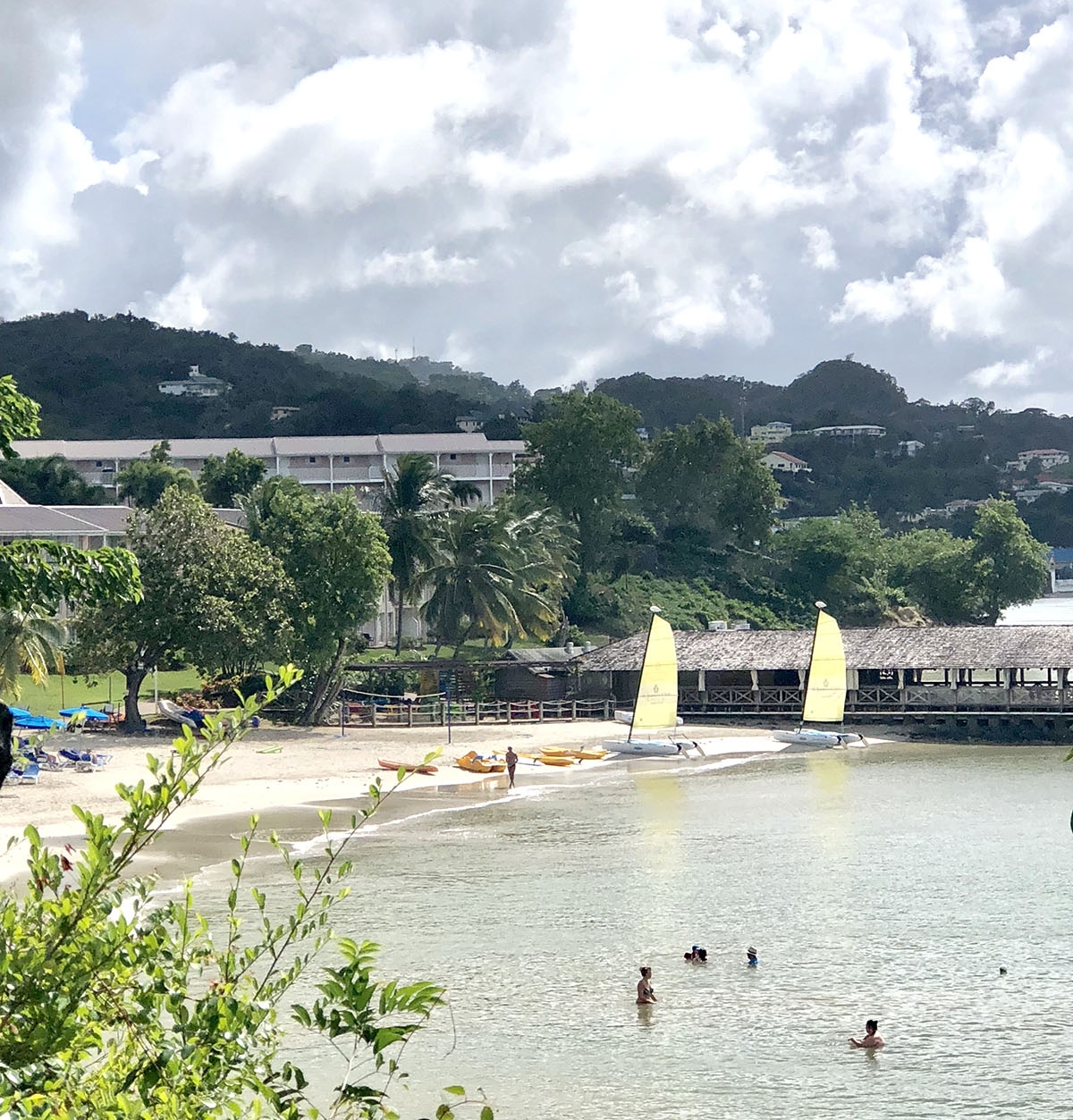 Are you thinking of travelling to St. Lucia?
St. Lucia has been on my bucket list for many years! The white sand beaches, turquoise waters, lush tropical landscapes and famous Pitons mountains were calling me! After searching online, I found a great all-inclusive package through Westjet Vacations and booked a trip for my family including husband and two kids (aged 8 and 5) and my parents to go in January 2018.
Getting to St. Lucia from Western Canada
For Western Canadians like us, St. Lucia is a bit far to travel for a short 7-day all inclusive vacation. Our flights took about 9 hours each way (plus layovers) as we first had to fly to Toronto and then to St. Lucia. Factor in the 3 hour time change, and you're bound to have a bit of jet lag when you arrive. Not that it matters too much, after all, it's paradise and there is plenty of time to recover! The journey is worth it!
Now, one thing that's important for people to know is that many of the beautiful resorts in St. Lucia are quite far away from the airport; a one hour ride or more. So after a long flight, you will likely have to get on a bus or taxi and travel for another 1-2 hours.
Our hotel in St. Lucia
St. James Club Morgan Bay is about 1.5 hours from the airport. The ride allowed us to see some gorgeous scenery and pass through towns that gave us glimpse of authentic St. Lucia living. When we arrived at the resort we discovered a truly beautiful place with well kept tropical grounds, a lovely little beach, nice pools, delicious food and drinks always flowing. Everything we expected from an all-inclusive resort. The one thing I really love about St. Lucia and this resort is it has that real authentic, laid-back Caribbean island-vibe!
Interesting fact: the most recent TV series 'Married at First Sight: Honeymoon Island' was filmed at St. James Club Morgan Bay!
Here are my favourite things about St. James Club Morgan Bay:
The resort did not feel crowded. It was small enough to not get lost, but big enough to have space away from the crowds.

The pools were a nice way to cool down and there were enough chairs for everybody.

Most staff were very polite and friendly. We never felt intimidated or pressured by staff in any way.

The buffet was not huge compared to other larger resorts we've been to, but there were enough choices and we could always find something tasty to try.

The a la carte restaurants were a nice break from the evening buffet and the food was good.

We enjoyed the convenience of the beach BBQ that served lunch every day. At the end of the vacation it did get repetitive, but we had enough choices to rotate what we ate every day so we wouldn't get tired of it.

The beach party on Wednesday night was outstanding! Delicious food, fabulous entertainment and vibrant atmosphere.

The rooms were very clean and felt spacious enough for our family of four.

The kids club looked like it would be a lot of fun (although my kids decided they were too shy to try it out!)

Beautiful scenery, views and things to look at wherever you go. We also enjoyed trying some of the water sports like stand-up paddle boarding and the sailboats.
Our family aged 4-76 were very impressed with our holiday in St. Lucia. We've been to many places in the world, and this was definitely one of our favourite vacations. Even if you do not choose St. James Club Morgan Bay for your resort, St. Lucia is definitely a Caribbean paradise!
Let me know if you have any questions in the comments below, and I'll be happy to answer!
---