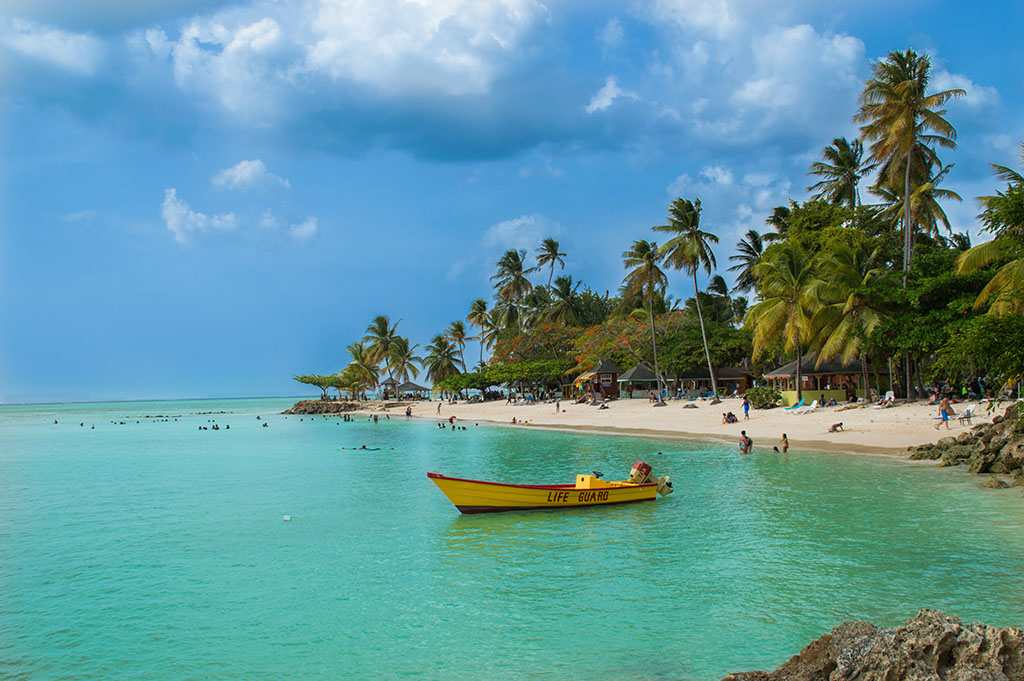 Top 10 beaches in the world (I've found so far) that are safe for kids!
Are you a beach bum like me? I love travelling the world looking for the best beaches! My idea of a great beach includes a number of factors. I love nice blue water, being able to see my feet when I walk in, warmer temperatures and not too many crazy waves or a strong current. I also enjoy nice soft sand and a few amenities such as a washroom and a place to get some food or drink. A bonus is having the option to rent a beach chair and umbrella, although I usually pack a big beach blanket and can find some shade under a palm tree.
Since I've had children, it's also important to me to find a great beach that is safe for the kids and a place we can stay for hours while they enjoy playing in the sand and water. These beach destinations all make the cut whether you are looking for a family beach vacation, a safe beach for young children, or a relaxing beach to visit on your own, with friends or your significant other.
These are my picks for the best beaches for families…so far!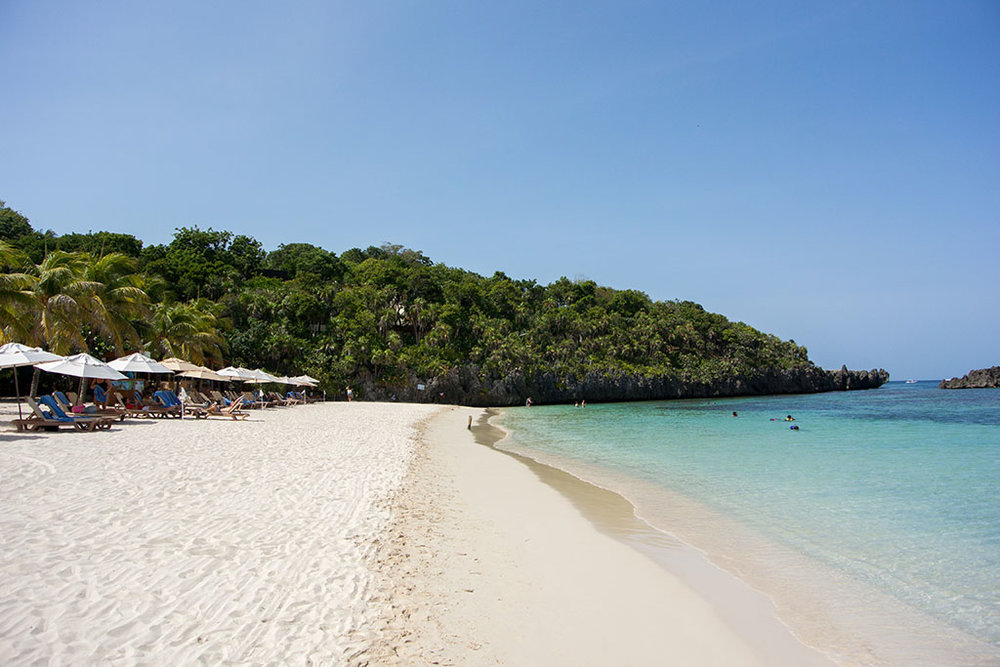 Tabyana Beach, Roatan, Honduras
Tabyana Beach is located on West Bay Beach, Roatan, Honduras. This beach is one of the nicest beaches in the world. It is absolutely stunning and truly checks all the boxes!
Soft, white sand

Crystal clear, turquoise water

Warm water temperature with barely a ripple.

Amenities including beach chairs, umbrellas, food and washrooms
Tabyana Beach is also closest to the world's second largest reef, Belize Barrier Reef. With only 70 feet between the beach and the reef, you basically walk right in with your snorkel and be ready to see the most beautiful underwater reef and sea life.
Tabyana Beach is wonderful for children. They can spend hours playing in the soft sand or in the water. As a parent, you will be able to relax because there is no waves or undercurrent at the shoreline. It is truly one of the most beautiful beaches I've ever seen in the Caribbean and I can't wait to go back!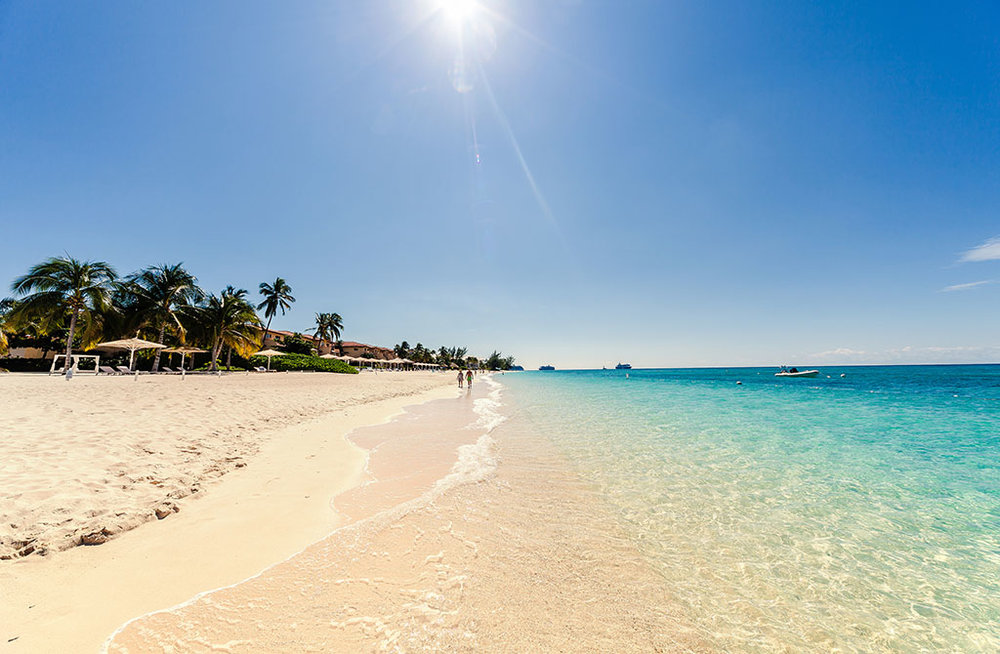 2. Seven Mile Beach, Grand Cayman
Seven Mile Beach is located on the western end of Grand Cayman island. It was voted 'Caribbean's Best Beach' from Caribbean Travel and Life Magazine. If you have a chance to visit this beach, you'll see why!
Soft, white sand

Crystal clear, turqouise water

Warm water temperature and very calm

Amenities can be found an many of the resorts which are open to the public, including restaurants and beach bars.

6.3 miles (not quite 7 miles as the beach name suggests!) of beautiful beach to explore.
Like Tabyana Beach, Seven Mile Beach is wonderful for children because it is clean and the water is calm. There are also a few small reefs for snorkelling just off shore.
3. Holetown Beach, Barbados
I think almost every beach in Barbados is stunning! We spent most of our time at Holetown Beach. This beach is offers lovely white sand and a nice gentle slope into the clear blue, warm Caribbean water. Great for all ages with excellent swimming, snorkelling or sunning on the beach. There are many places to eat and drink nearby, plus convenient access to all the amenities you need for a fun beach day.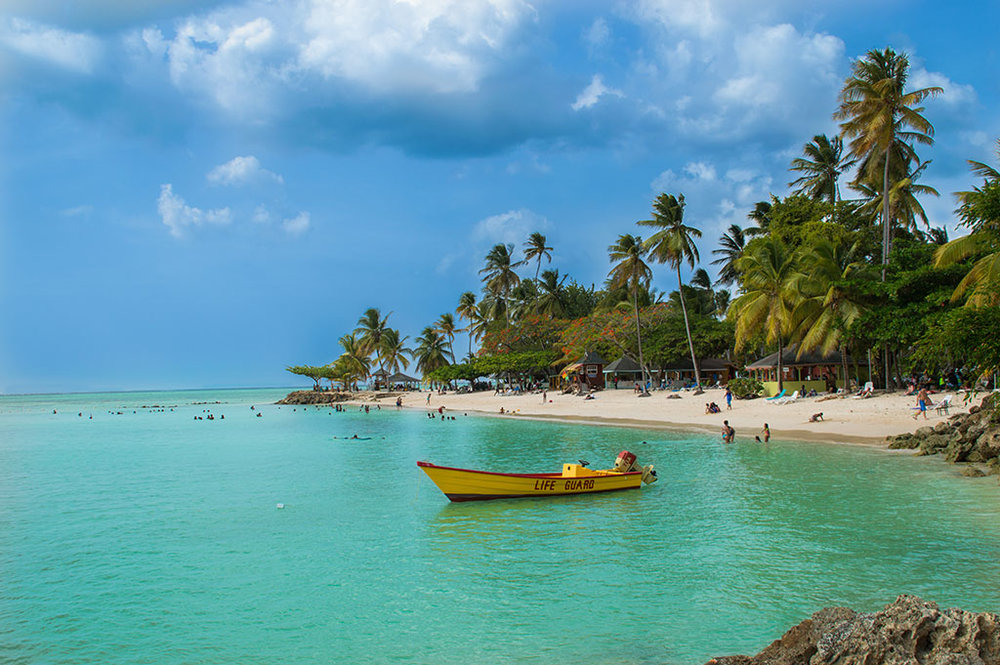 4. Pigeon Point, Tobago
On the tiny island of Tobago, the sister island of Trinidad, you'll find Pigeon Point beach. The beautiful aquamarine water goes waist deep for many meters, making it a perfect spot for not so confident swimmers. The water is some of the warmest I've ever felt, and the waves are very gentle. Hop on a glass bottom boat that will take you to the nearby Buccoo Reef where you'll see vibrant coral and colourful fish. You can spend time checking out the reef from the boat or snorkelling in the 'nylon pools' which are very shallow areas in the reef.
The beach has washroom facilities, restaurants and gift shops. There are plenty of photo opps with the pretty coconut trees and flowers, white sand and cool rock formations. A fantastic family beach destination!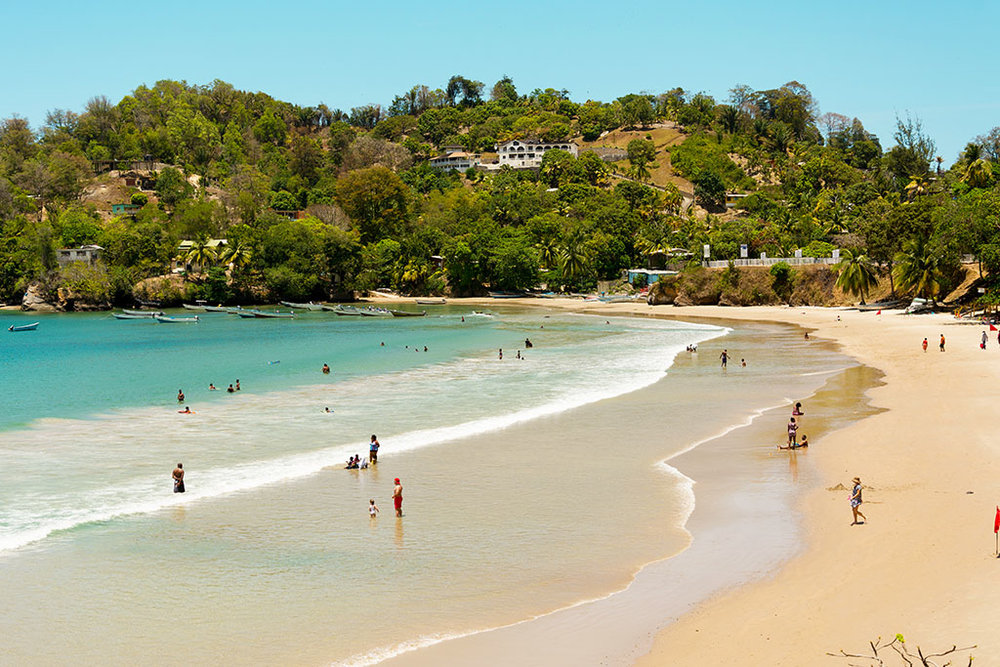 5. Las Cuevas Bay, Trinidad
Las Cuevas Bay is the second most popular beach in Trinidad, after Maracas Beach. Located about 15 minutes from Maracas, the water at this beach is calm and sheltered in the horseshoe shaped bay. It is a great beach to relax with the family, and has amenities including a snack bar and washroom facilities. You must be sure to stop at Maracas Beach for the world renowned local dish called bake and shark which is very popular street-food in Trinidad and Tobago.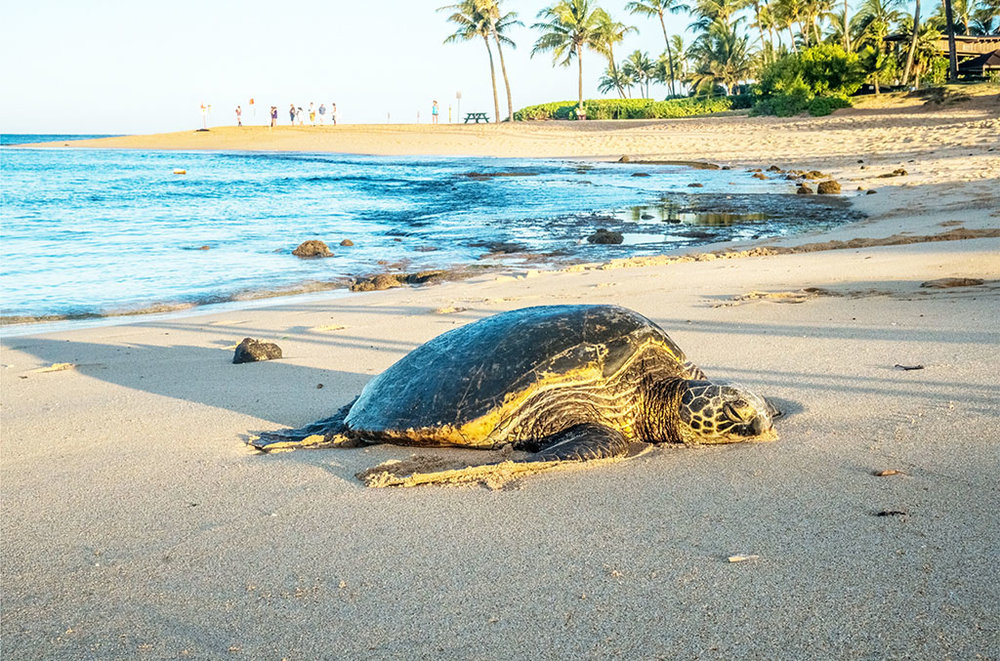 6. Poipu Beach, Kauai
Poipu Beach is known as the best beach in America according to The Travel Channel. Located on the south shore of Kauai, Hawaii, Poipu Beach is made up of two beaches in a bay separated by a long point. There is a large protected, shallow area which is great for small children to safely splash around in, often with large sea turtles swimming nearby! The soft, light golden sand is fun to play in and explore, where you'll often find a napping Hawaiian Monk seal (sometimes more than one!) There is also excellent snorkelling, and on the other side of the point there are gentle waves which are fun for body boarding or beginner surfing. You'll find all the amenities including washrooms, a small playground and a restaurant and store.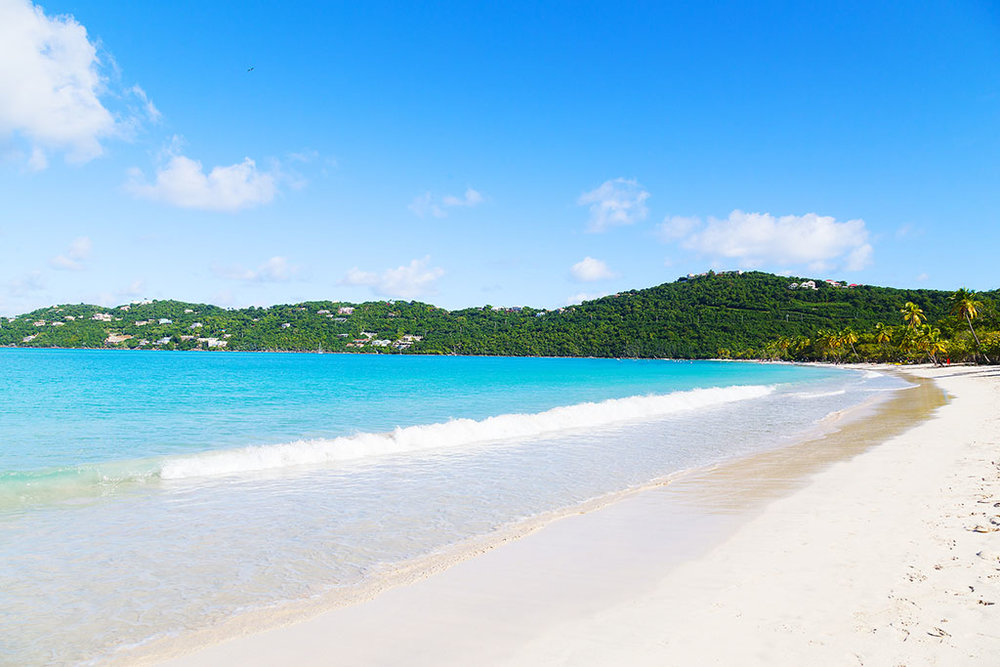 7. Magens Bay, St. Thomas
We discovered Magens Bay, St. Thomas, Virgin Islands on a day excursion while on a cruise. Magen's Bay is known as one of the world's best beaches and it's easy to see why! Gorgeous, white sand and crystal clear, turquoise water with barely any waves. This tropical beach is surrounded by coconut trees and lush natural landscapes, offering a fun place for the family to play or relax. All of the amenities can be found including washrooms, change facilities, a restaurant and bar.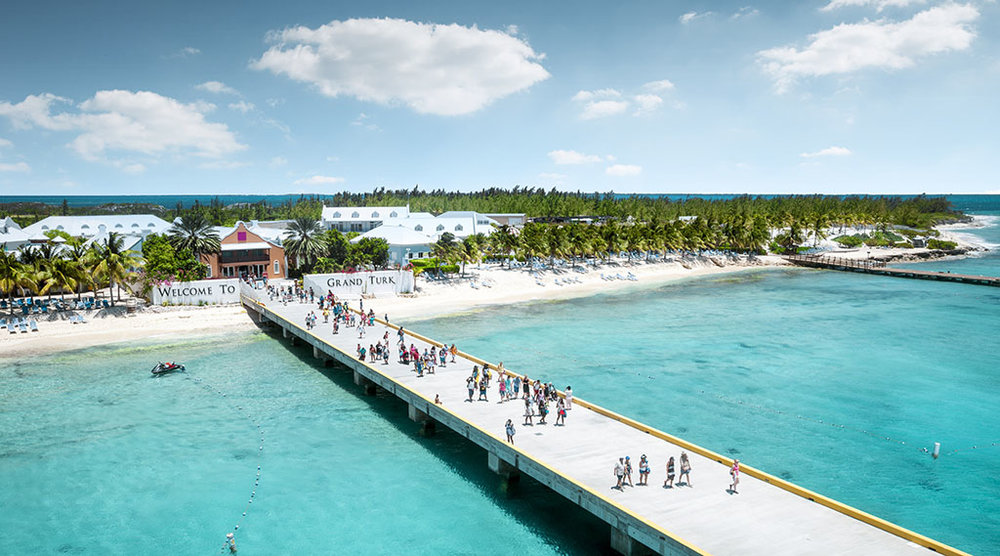 8. Sunray Beach, Grand Turk
Sunray Beach is a beautiful beach found right at the cruise ship port in Grand Turk, Turks and Caicos. This cruise ship port and beach has become one of the most popular attractions in Grand Turk, and the Caribbean as a whole, due to the first class beach, dining and shopping destination it offers. Sunray beach is a stretch of lovely white sand and beautiful turquoise waters. The calm, warm water is fun to play and swim in, and the clarity of the water makes for excellent snorkelling. There are many restaurants, bars and shopping nearby, and amenities including washrooms and change facilities.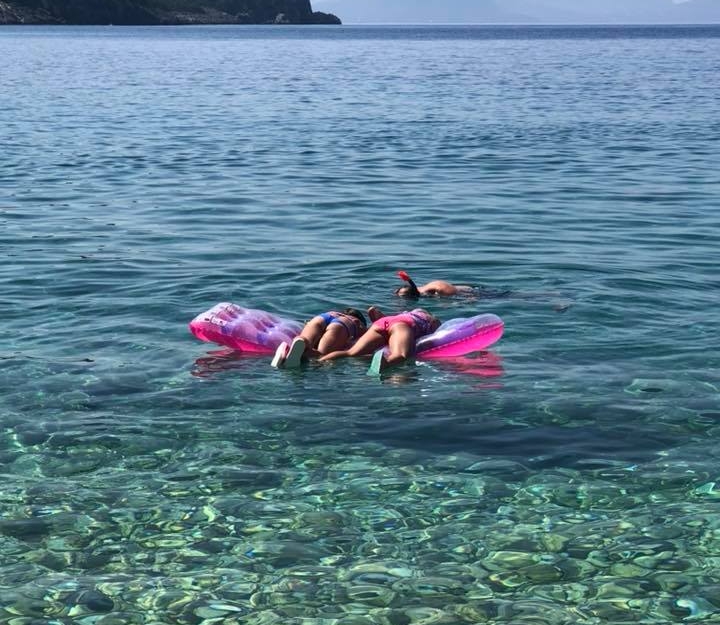 9. Afteli Beach, Lefkada
If you enjoy travelling off the beaten path to find hidden gems away from the crowds, then you'll love Afteli Beach in Lefkada, Greece. It is located on the east coast of Lefkada and can be found by travelling 4km off the main road on a very narrow, curvy road through the mountains. Although 4km seems like a short distance, it is a slower drive due to the tiny, winding road. At the end of the road you'll be rewarded with a stunning, emerald green bay with crystal clear water that changes colours depending on the sunlight. The beach is tiny but has a lot of sunbeds and a shower. Washroom facilities are located in the restaurant and cafe that is right next to the beach. The beach has tiny pebbles to be sure to bring water shoes, but you will enjoy the clear water that barely has any waves. This beach is great for kids because of the gentle waters, lack of strong currents and interesting rocks and pebbles.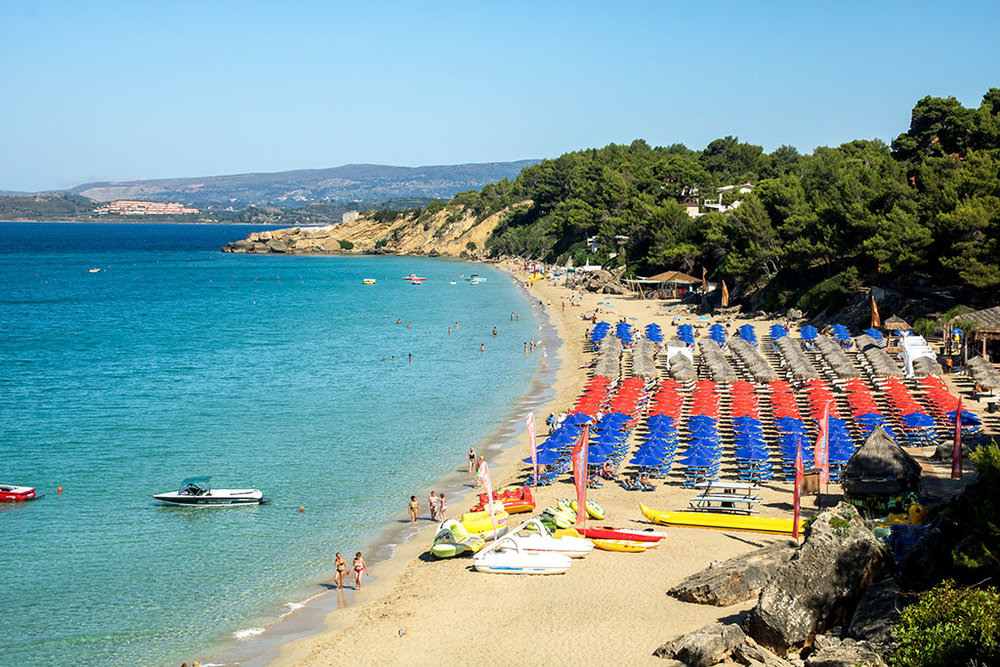 10. Makris Gialos Beach, Kefalonia
Known as the most famous, organized beach in Kefalonia, Makris Gialos beach is surrounded by beautiful scenery including green evergreen forest and lovely rock formations. The sand is soft and golden and the Ionian Sea water is crystal clear and blue. This beach is great for families because it offers all of the amenities you need including beach service, lounge chairs, restaurant/bar and washroom facilities.
I know there are SO many fantastic beaches in the world, especially for families and kids. I have yet to visit all of them but my goal is to see as many as possible! What are your favourite beaches in the world to go to with your kids? I'd love to hear from you so I can add to my bucket list. Please leave your suggestions in the comments below.
---