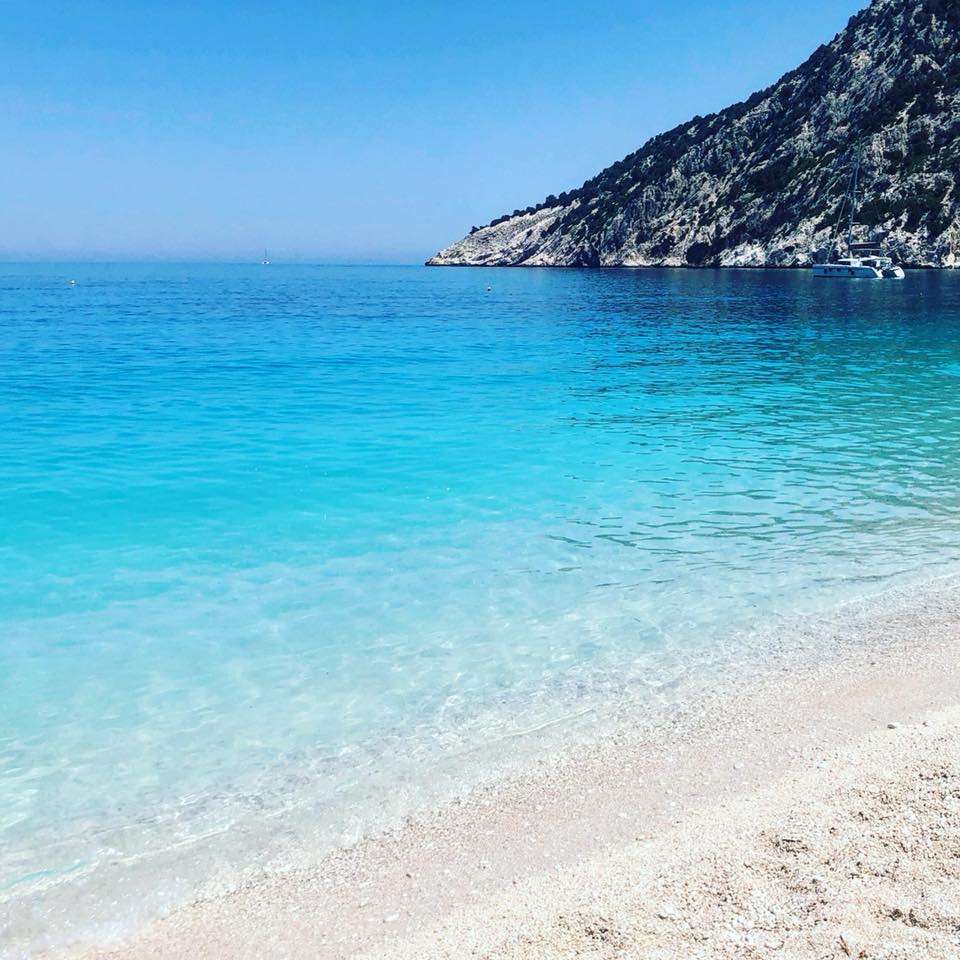 Thinking about planning a trip to Greece?
If a Greek holiday has been on your mind, here are some reasons to visit Greece!
I have a big circle of Greek friends here in Canada and they are always talking about all the reasons I need to visit Greece. I have been lucky enough to be immersed in their wonderful culture since I was a child and after so many years of hearing about Greece, I finally had a chance to go! Along with my husband, kids and another [Greek] family, we traveled to Greece and visited Patras, Cephalonia, Lefkada and Athens.
What is Greece like?
If you've never been to Greece, you probably have an idea in your head of what it's like. Perhaps you envision the classic white-washed buildings, blue rooftops, bright pink flowers (bougainvillea) and cobblestone streets? Or you may think of hot weather, stunning blue seas, olive trees and the delicious aroma of Greek cooking?
Greece is all of this but so much more. Depending on where you go, Greece is an extremely vast country. From historical ruins and busy city streets to lush mountain ranges and quaint beaches, the diversity of the Greek landscape is far beyond the classic images you see in postcards.
Visit Greece with an open-mind and you will not be disappointed!
My advice to first-time visitors to Greece is to go with an open-mind and open-heart! Visiting some areas of Greece is like taking a trip back in time, and other areas you'll feel like you can slow down and enjoy the simple pleasures in life. Greece is a feast for all of the senses. Here are some of the things I absolutely adored and reasons I think you should travel to Greece at least once in your lifetime!
12 Reasons to Visit Greece
1. Greek streets are alive with many bustling cafes and restaurants.
Many streets of Greek cities and towns are vibrant and full of life. There are many walking streets with cafes, restaurants and shops. People sit for hours in cafes and restaurants or out front of their shops visiting with their friends or even having a friendly game of cards or checkers. Be sure to pop into some of the 'hole in the wall' shops and you'll find the neatest products that you don't normally see in Westernized shops back home.
2. The slower pace of living.
People seem to appreciate the finer things in life; visiting with friends or family, a good cup of coffee, cooking with love and so on. You will see that everything flows at a much, MUCH slower pace than in North America!
3. Beaches of Greece are stunning!
Greece is renowned for beaches and I can definitely see why. There are so many to choose from: quaint to bustling, kid-friendly to party central! Here is a great guide on the 35 best beaches in Greece from Fodor's Travel.
4. The beautiful water.
The waters of the Meditteranean and Ionian Sea is so clear and comes in beautiful shades of blues and greens unlike anything you've ever seen in other parts of the world.
5. No sharks in Greece and calm seas.
Most species of sharks near Greece are harmless. Sightings are extremely rare and, in general, shark attacks in the Mediterranean are also rarely reported. You don't have to worry about sharks in Greece and this will give you peace of mind, especially when traveling with kids! You will also find that there are many beaches to choose from with lovely, calm water, allowing even non-swimmers to enjoy the sea!
6. The unbelievable scenery of Greece.
Vast mountain ranges, ancient caves, archaic ruins, historical buildings, stunning blue water and thousands of beaches, Greece truly is a feast for the eyes. Island-hopping is a great way to see Greece, and this two-week Greek Island Hopping Itinerary is a great way to see it all!
7. Transportation in Greece is really easy.
Rent a car, take a train, catch a ferry – it's just so simple to get around. Here is a great article that gives some good information on transportation in Greece.
8. Accommodation in Greece is still fairly cheap.
In comparison to other countries, accommodations in Greece are still quite inexpensive. The low cost of hotels and private rentals in Greece really helps keep this country an affordable vacation spot.
9. Greek coffee is so yummy!
From frappes to authentic Greek coffee, if you're a coffee drinker you'll definitely appreciate it! Drinking coffee in Greece is more like an art form. You need to sit down, sip and savor it!
Be sure to try a Greek Frappe. It is a foamy iced coffee drink that, along with Greek coffee, you can find almost everywhere in Greece. Made from instant coffee, sugar, ice cubes, and water or milk, it is very popular, especially during summer.
10. Delicious bakeries in Greece.
Greek bakeries offer the freshest and most delicious sweets and savories baked every day. Be sure to go to a bakery to pick up breakfast such as "koulouria" which is a bread ring covered in sesame seeds, or puff or filo pastry pies such as "kaseropita" which is a very popular style of cheese pie.
Greek sweets are also simply the best and there many bakeries that are filled to the brim with beautiful cakes, pastries, chocolates and more. You'll find popular desserts like some of these 7 Scrumptious Greek Desserts.
11. One word…Gyros.
Simply the best! Gyros is a snack food found everywhere in Greece. Don't get fooled by the word 'snack', Gyros will really fill you up! Gyros are generally any kind of meat on a spit, cooked until it's crispy on the outside, then sliced off or cut in chunks onto a plate or wrapped in a pita. Garnished with garlicky white tzatziki sauce, a tomato and onion slices, one bite and you'll be hooked!
12. Greece is a photographer's paradise.
The architecture, nature, oceans, old doors, walls, grafitti, bicycle, flowers, people, streetscapes, landscapes, food…every corner you turn you'll want to be clicking your camera. There are many lists online of great photography locations in Greece, but I honestly don't think you'll have to worry about NOT finding a great spot to capture!
I can see why people get hooked on traveling to Greece. It's such a vast country and every island, town and corner of the country has something different to offer. There are so many reasons to visit Greece beyond this and I think everyone should go there at least once. You never know, you may keep returning again and again!
Have you been to Greece? What are the things you loved the most and your reasons to visit Greece? Let me know in the comments below!
© Copyright 2018.
---