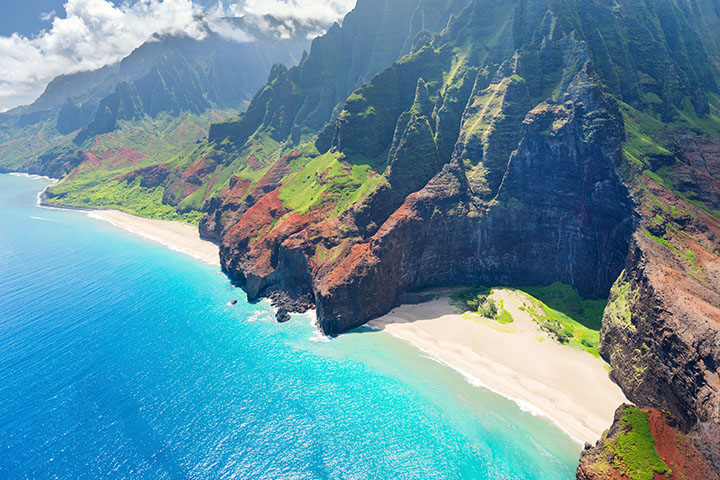 Planning a trip to Kauai?
Traveling to Kauai soon? Or are you thinking about going to Hawaii but not quite sure which island to choose? Our favorite Hawaiian island is definitely the island of Kauai. Known as the garden island, Kauai offers stunning landscapes with lush tropical greenery, flowers, mountains, canyons, beaches, rivers and waterfalls. The island has a very laid-back vibe and 'Aloha spirit'.
Best things to do in Kauai with kids.
If you're taking your kids to Hawaii and looking for a vacation filled with a nice mix of relaxation and adventure, Kauai is the place to be! Of course, when traveling with young children, it's important to know what you're in for and how to keep them busy. Kauai offers the best of both worlds – enough activities to keep them busy, but a really laid back environment to keep everyone, including mom and dad, relaxed.
Top things to do in Kauai. Family-friendly and fun for the kids!
1. Poipu Beach
Poipu Beach is known as the best beach in America according to The Travel Channel. Located on the south shore of Kauai, Hawaii, Poipu Beach is made up of two beaches in a bay separated by a long point. There is a large protected, shallow area which is great for small children to safely splash around in, often with large sea turtles swimming nearby! The soft, light golden sand is fun to play in and explore, where you'll often find a napping Hawaiian Monk seal (sometimes more than one!) There is also excellent snorkelling, and on the other side of the point there are gentle waves which are fun for body boarding or beginner surfing. For the older children you can sign them up for beginner surf lessons at one of the nearby kiosks. You'll find all the amenities including washrooms, a small playground and a restaurant and store across the street.
2. Explore family-friendly beaches in Kauai
Kauai has so many beaches all within a fairly short driving distance. Part of the adventure is trying a different beach every day Every beach has something different to offer, with incredible scenery around it. Pack a cooler and your beach gear and go on a little road trip each day!. A few great beaches to put on the itinerary are: Salt Pond Beach, Anini Beach, Lydgate Beach and Baby Beach.
Here are a couple of links to family-friendly beaches recommended by other travelers.
Best swimming beaches in Kauai for kids.
3. Visit Hanalei Bay
Hanalei Bay is found on the north shore of Kauai in the area of Princeville and is a must to spend some time exploring this historic area. The bay is the largest on the island with 3.2km of beaches with four beach parks to choose from. The best time to visit is in the summer months when the water is calmer, but the scenery is beautiful year round. If you are not already staying in this area, definitely make a day trip. Often hailed as one of the most beautiful places on earth, Hanalei Bay offers majestic mountain backdrops, gorgeous scenery, pretty beaches and unique local shops and restaurants.
4. Experience a Luau in Kauai
A trip to Hawaii isn't complete until you have experienced a luau. We enjoyed the Smith Family Garden Luau but know there are many other wonderful options on the island of Kauai to choose from. Take a peek at some of the best luaus on Kauai here. At a luau you'll enjoy trying authentic Hawaiian food, seeing the traditional dances and fire show, plus you'll learn a lot about the history of Polynesian culture.
5. Plantation Tour on the Kilohana Plantation Railway
The train tour of the 105 acre Kilohana Plantation is a fun and interesting adventure for the entire family. This guided 40-minute train ride will let you see and learns about the many varieties of trees, vegetables, flowers and fruits of Kauai. The train stops and the kids will get a kick out of feeding the wild pigs, goats and sheep. There is also a restaurant and gift shop, easy to spend a few hours at this location.
6. Visit the Kauai Coffee Estate
Alright, I know kids don't drink coffee, but this tour is a win-win for both parents and kids! At the Kauai Coffee Estate you can let the kids explore the outdoor trails and enjoy the fresh air. You can choose a guided tour or roam through on your own and see how coffee beans are grown, harvested and made into many delicious flavors of coffee. End off the tour with sampling different coffee flavors inside the shop. Don't worry, there are ice cream and snacks for the kids too!
7. Visit Lydgate Farms for a Kauai chocolate tour
I haven't personally done this yet, but have been told that the chocolate tour is for all the chocolate lovers in the family! A visit to Lydgate Farms looks like a delight for the senses, strolling through the botanical gardens and sampling of palm honey and vanilla beans. And the extensive chocolate tasting course sounds like a pretty sweet time!
8. Tour of Na Pali Coast
I put the tour of Na Pali Coast on this list for families with kids at least 5 and up. No visit to Kauai is complete without seeing the breathtaking Na Pali Coast. Razor-edged cliffs, waterfalls, green valleys and crashing waves in emerald blue waters is a truly magical sight to see, and there is no other way to see it than from the air, water or an intense hike. There are so many boat tours to Na Pali, but the key is to choose a tour that leaves from Hanalei (not Port Allen). When you choose a boat that leaves from Hanalei, you will reach Na Pali coastline in a matter of minutes rather than two or more hours. Depending on the tour company you choose, you will also have the opportunity for lunch or snacks on board, snorkeling or entering sea caves. It is wise to take motion-sickness medication before going on the tour as it can get quite wavy, but you'll have a great experience if you and the kids are prepared in advance!
9. Spend time at Grand Hyatt Kauai Resort or Kauai Marriott Resort
The Grand Hyatt Kauai Resort or Kauai Marriott Resort used to offer day passes to use their beautiful pool and facilities. I am not sure if they still do, but it would be worth finding out! The Grand Hyatt Kauai offers a 5-acre pool area with lazy river, saltwater lagoon, and waterslide, while the Marriott offers a huge pool and lovely beach. Bring the family to enjoy the day at one of these hotels, and if they don't still offer the day passes, it would definitely be worth it to book a night or two at one of these resorts to enjoy their breathtaking facilities.
10. Go Ziplining in Kauai
If you're looking for a bit more of an action-packed adventure, be sure to try ziplining. Ziplining lets you soar above the treetops, taking in the gorgeous landscapes while getting a bit of an adrenaline rush. It's a really fun family activity for those who have older children. It's safe, challenging and a wonderful bonding experience that creates memories for life. In Kauai, there are a few zipline companies, but the most recent I've done is Koloa Zipline which can accommodate kids aged 7 and up.
Have you been to Kauai with kids? Comment below and share your favorite places to visit, eat and play. I am always looking for new things to do when we return to Kauai with the kids!
---
---