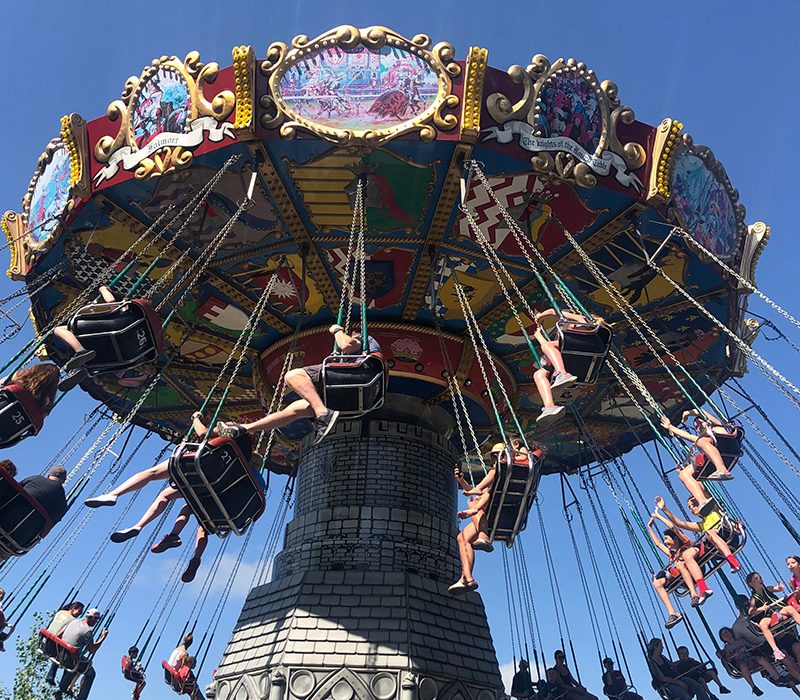 Every summer, we visit Calaway Park in Calgary. We've been taking the kids since they were two-years-old – it quickly became a tradition when we realized just how awesome this amusement park is for everyone from young to old.
Where is Calaway Park?
Calaway Park is Western Canada's largest amusement park and is located about 5 minutes west of Calgary, Alberta, Canada on Highway 1. The exit for Calaway Park is called Springbank Road (exit 169).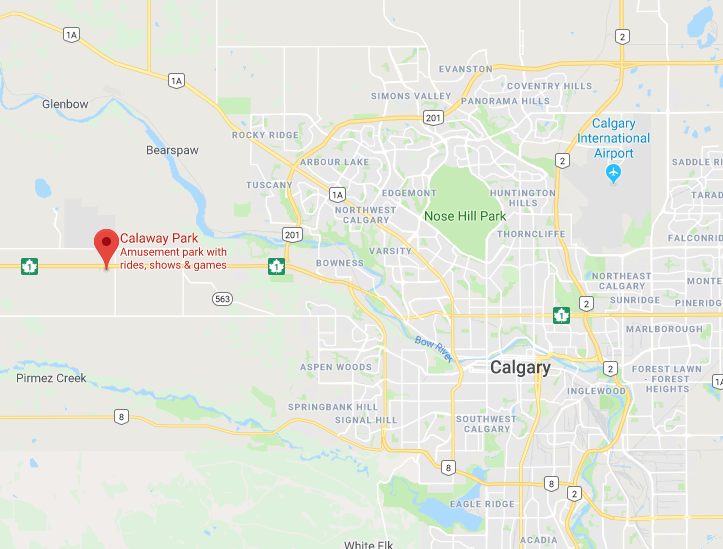 What makes us keep going back to Calaway Park?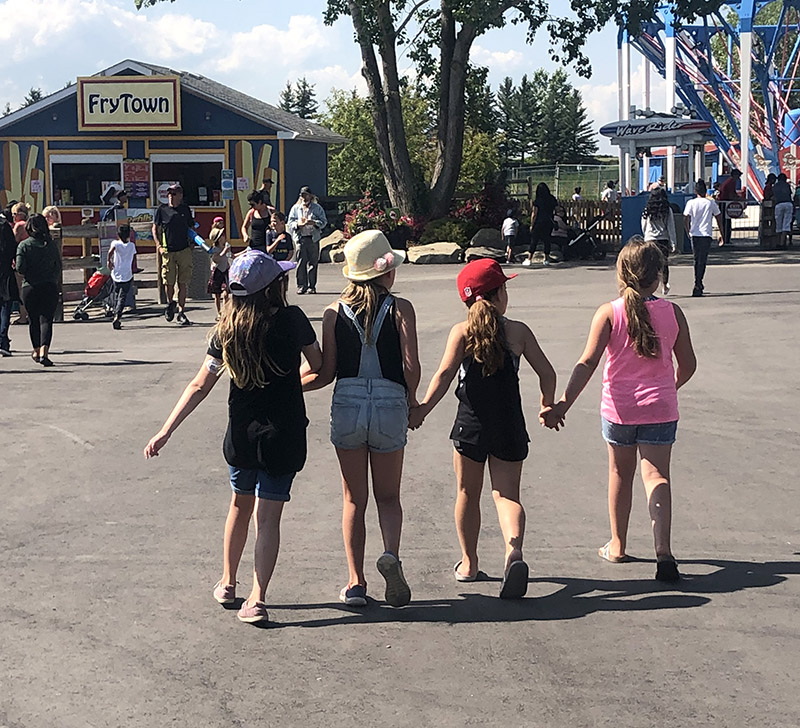 There are many reasons why we return to Calaway Park every year. We love that we can pay one-admission at the gate to enjoy unlimited rides and entertainment all day. We also appreciate that the price to get in is so reasonable! You can easily get a family of four into the park for well under $150. Plus, kids under two are free.
Calaway Park is always so clean and we consistently notice that their staff is incredibly friendly and professional. There are plenty of trees and shade for hot summer days and there are many seating areas throughout the park.
Food at Calaway Park
There are a ton of food options whether you want to indulge in some carnival-fare like cotton candy, ice-cream, and deep-fried pickles or healthier options like the Beyond Burger or root veggie fries. They have five main restaurant options, plus many kiosks throughout the park, so you'll never go hungry!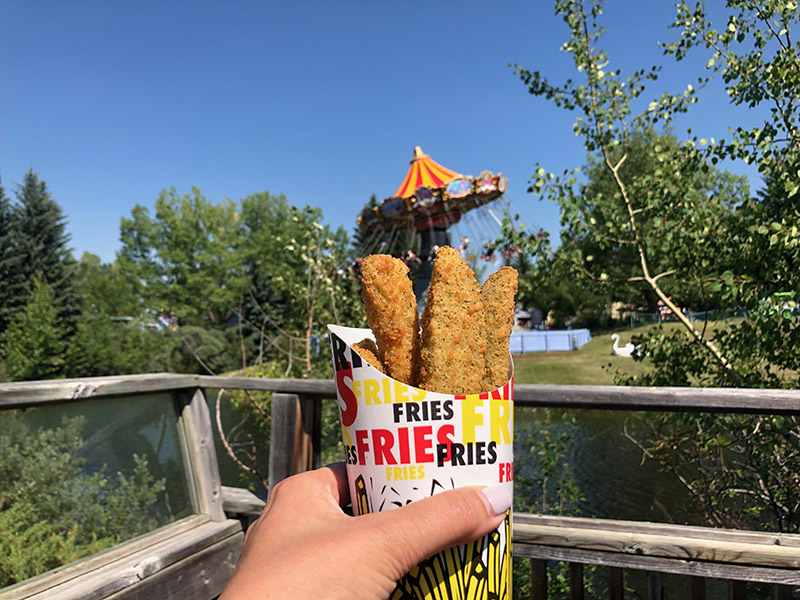 Rides at Calaway Park
Another thing we love about Calaway Park is the wide range of rides for all ages and levels. For those who thrive on adrenaline, be sure to try the Vortex Roller Coaster, the Storm or Chaos. The smaller children or adults who like a milder experience should definitely try the new Bumble Blast roller coaster or some fan favorites like the Aeromax or Dizzy Dragons. There are a lot of toddler 'starter' rides like the Eggs, Tot Yachts or the Swirly Twirl swings. The Balloon Ferris Wheel is always a hit for all ages.
Calaway Park Tips
Over the years, we have compiled many tips for making Calaway Park a fun and stress-free experience.
1. Before visiting, go on the website at www.calawaypark.com to find tickets. They often have online promotions and discount coupons.
2. Watch for coupons at www.calgaryattractions.com, or in grocery stores such as Co-Op.
3. If you are going with a large group, they offer online group discounts. If you can't find anything online, be sure to give them a call.
4. If you have little kids, be sure to bring your stroller as there is a lot of walking. They also offer stroller rental in the gift shop near the entrance. Even when our kids were a bit bigger, the stroller came in handy to pile all our stuff on!
5. Another option is to bring a wagon to cart to haul around your gear! The majority of the park is outdoors, so pack for the weather. Many times, we have gone when it is cold in the morning then turning very hot in the afternoon. Dressing for different climates all happening in one day means we have to bring more stuff.
6. It is less crowded in the week. If you can go during the weekdays, Monday to Thursday are the best days to go, and you'll love not having to wait in long line-ups. You'll find that you can even walk right onto rides without having to wait. Our kids loved being able to do the same rides over and over because there was no line.
7. Try and get there right when the park opens. You'll be able to enjoy the entire day, and it is usually not as crowded. If you can hit up your favorite rides first thing, you'll avoid the long line ups (especially for the Vortex roller coaster).
8. Parents – if you are going with a group, it's best to go with an even number of kids; otherwise, someone will always feel left out. We have found that going with four or six kids works well. Any higher number we have wasted a lot of time figuring out who is splitting up and where they are going etc.
9. Leave the Timber Falls log ride to later in your visit, otherwise, you'll be wet all day! We usually enjoy Timber Falls near the end of the day. The line-ups are long, so plan to be there at least 45 minutes to an hour before you get on.
10. Be sure to check out the new CP Spray and Play spray park located near the front gates. Especially on those hot summer days, be sure to pack a bathing suit and towel for the kids. They will enjoy spending time in this fun new spray area that's right next to the Twiz and Twirl Maze. We loved going here after a hot day of walking around. The kids cooled down, and the grown-ups soaked our weary feet in the refreshing water.
Once you visit Calaway Park, you'll realize just how affordable and fun it is for families! In my opinion, it is MUCH better and significantly cheaper than going to some of the big touring carnivals that visit Canadian cities during the summer months.
Have you been to Calaway Park in Calgary? What tips or tricks would you tell someone who is planning to go? Let me know in the comments below!
---